Welcome to Gulf Stream Online No. 7!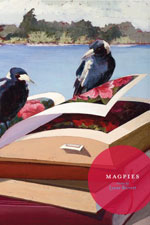 Congratulations to F.I.U.'s own Lynne Barrett, professor and former editor of Gulf Stream. Her fiction collection Magpies has won the Gold Medal at the Florida Book Awards!


Check out our Streamline page for thoughts on writing and literature sent in by authors from around the country.



Gulf Stream Magazine has been publishing emerging and established writers of exceptional fiction, nonfiction and poetry since 1989. We also publish interviews and book reviews. Past contributors include Sherman Alexie, Steve Almond, Jan Beatty, Lee Martin, Robert Wrigley, Dennis Lehane, Liz Robbins, Stuart Dybek, David Kirby, Ann Hood, Ha Jin, B.H. Fairchild, Naomi Shihab Nye, F. Daniel Rzicznek, and Connie May Fowler. Gulf Stream Magazine is supported by the Creative Writing Program at Florida International University in Miami, Florida.